Die Wirtschaft wächst nach wie vor breit und stark. Gleichzeitig erkennt man, dass die Dynamik nachlässt. Die Geldpolitik wird zusehends restriktiver. Zuletzt hat auch die Bank of Japan veröffentlicht, dass sie intern über Ausstiegsszenarien aus ihrem Asset-Kaufprogramm nachdenkt. Bei der Europäischen Zentralbank rechnet man damit, dass sie in den nächsten zwölf Monaten ihr Programm ebenfalls beenden wird. Federal Reserve, Bank of England und Bank of Canada werden demnächst weiter an der Zinsschraube drehen.
Die politischen Risiken sind zuletzt wieder deutlich gestiegen. Stichworte wie Handelskrieg, Syrienkonflikt, oder Russland Sanktionen führen zu einer erhöhten Risikoaversion und begünstigten zuletzt risikoarme Anleiheklassen wie Euro-Staatsanleihen. Sicherheit hat wieder ihren Wert. Im Anleihenbereich sehen wir den Markt für Credits weiterhin gut unterstützt. Die Suche nach Rendite geht weiter. Bei der Titelauswahl wird zunehmend auf Liquidität geachtet.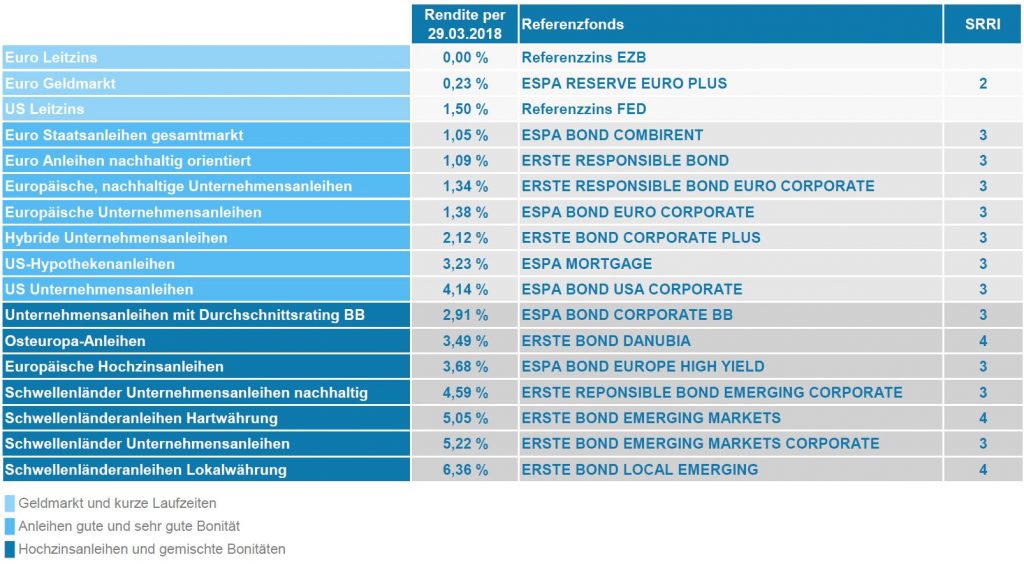 Rendite-Entwicklung von US- und EUR-Staatsanleihen und EUR-Unternehmensanleihen mit guter bis sehr gute Bonität von 03/2013-03/2018 (Europa, USA)
Rendite-Entwicklung von europäischen Hochzinsanleihen im Vergleich zu globalen Hochzinsanleihen und Unternehmensanleihen von Schwellenländern (03/2013-03/2018)
Kennzahlen-Übersicht

(mehr Informationen finden Sie unter http://www.erste-am.at/)
---
Hinweis zu den Grafiken:
Die Renditeentwicklung der Vergangenheit lässt keine verlässlichen Rückschlüsse auf die zukünftige Entwicklung eines Anlagesegments oder Investmentfonds zu. In der Grafik sind keine Spesen oder Gebühren berücksichtigt.
Dieser Beitrag erschien zuerst im Blog der Erste Asset Management.
Mehr Informationen zur Produktpalette der Erste Asset Management finden Sie unter www.erste-am.at.