An der Wall Street startete in der Vorwoche die Berichtsaison traditionell mit den größten US-Banken. Ihre Ergebnisse für das Schlussquartal 2019 vermitteln einen guten Eindruck darüber, wie das Vorjahr an den Finanzmärkten lief. Außerdem lassen sich daraus interessante Trends für Anleger ablesen.
Grund genug, sich einen Überblick über den Auftakt der Berichtsaison zu verschaffen. Grundsätzlich zeichneten die Quartalsergebnisse ein differenziertes Bild des US-Finanzsektors. Während einige Geldhäuser Rekordgewinne verbuchen konnten, spürten andere die Herausforderungen der Branche stärker.
Niedriges Zinsniveau und Rechtsstreite belasten
Nachdem die US-Notenbank Federal Reserve im Vorjahr drei Mal die Leitzinsen senkte, machten die niedrigen Zinsen den Banken zu schaffen. Dies betraf unter anderem den Kreditriesen Wells Fargo.
Seine Erträge fielen im vierten Quartal um 5 Prozent auf 19,9 Mrd. Dollar, der Gewinn brach verglichen mit dem Vorjahreswert um mehr als die Hälfte auf 2,9 Mrd. Dollar ein. Bei Wells Fargo kamen Rückstellungen von 1,5 Mrd. Dollar hinzu, mit denen sich der Konzern für Konsequenzen andauernder Rechtskonflikte wappnet.
Ebenfalls von Rechtskosten beeinträchtigt zeigte sich das Ergebnis des ehemaligen Branchenprimus Goldman Sachs, der im Gesamtjahr 2019 noch 8,5 Milliarden Dollar (nach 10,5 Mrd. 2018) Gewinn verbuchte. Auch bei der Bank of America gingen die Gewinne zurück.
Hier fiel alleine im Schlussquartal der Überschuss im Privatkundengeschäft um fast ein Zehntel. Als Grund dafür nannte die Bank of America explizit den Rückgang des Zinsüberschuss.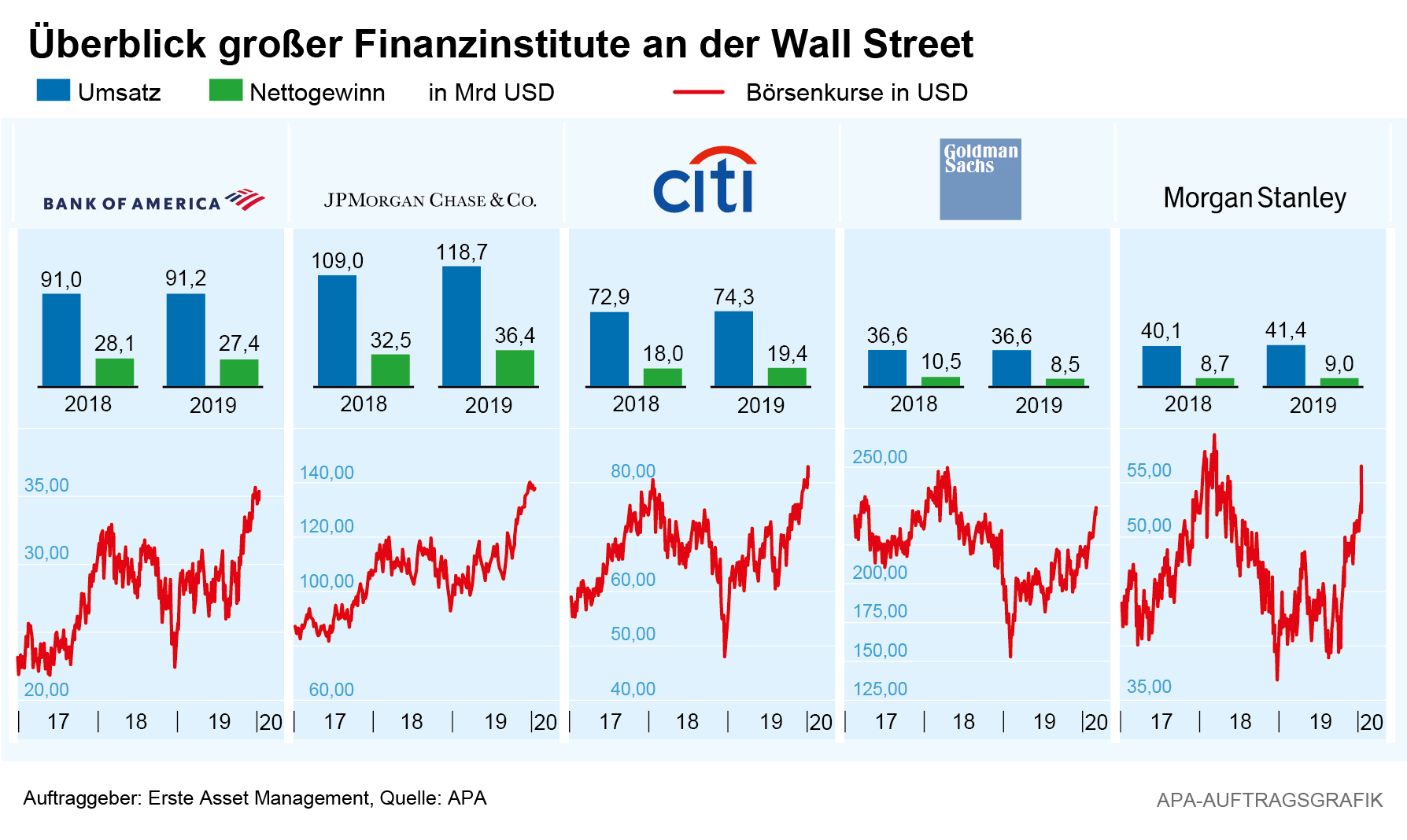 Geschäft mit Anleihen boomt
Einen Lichtblick lieferte das starke Geschäft mit Anleihen. So meldete Morgan Stanley im abgelaufenen Jahresviertel einen Rekordgewinn. Im Vergleich zum Vorjahresquartal verdoppelten sich laut Morgan Stanley die Gebühreneinnahmen aus dem Handel mit Anleihen sogar.
Im Gesamtjahr stieg der auf die Aktionäre entfallende Überschuss um vier Prozent auf 8,5 Milliarden Dollar und übertraf damit die durchschnittlichen Erwartungen von Analysten.
Nachdem Morgan Stanley am vergangenen Donnerstag seine Bücher geöffnet hatte, schlossen seine Aktien mit einem satten Plus von mehr als 6 Prozent und trugen damit dazu bei, dass der Leitindex S&P 500 auf einen neuen Rekordstand vorrücken konnte.
Neben hohen Einnahmen aus dem Anleihenhandel berichteten die erfolgreichen Banken trotz niedrigerer Zinsen von einem guten Geschäft mit Privatkunden. Die robuste US-Konjunktur hielt den Konsum der Amerikanerinnen und Amerikanern in Schwung, hieß es. Die Citigroup führt einen guten Teil des Gewinnanstiegs um 8 Prozent im Gesamtjahr auf 19,4 Milliarden Dollar auf die Ausgabefreude der Kreditkartenkunden zurück.
Fed sieht weiter moderates Wachstum
An den Rahmenbedingungen für das Bankengeschäft in den USA dürfte sich auch in diesem Jahr wenig ändern. Die Federal Reserve geht davon aus, dass einerseits aufgrund der niedrigen Inflation die Zinsen niedrig bleiben werden.
Andererseits rechnet die Fed mit weiter moderatem Wachstum der Wirtschaft und leicht steigende Konsumausgaben. Dies geht aus dem aktuellen Konjunkturbericht hervor, den sie im Umfeld der Bankenergebnisse in der Vorwoche veröffentlicht hat.
---
Wichtige rechtliche Hinweise
Prognosen sind kein zuverlässiger Indikator für künftige Entwicklungen.
Dieser Beitrag erschien zuerst im Blog der Erste Asset Management.
Mehr Informationen zur Produktpalette der Erste Asset Management finden Sie unter www.erste-am.at.