by Philip Haddon, Head of Investment Communications at Schroders.
Voting at the Schroders Investment Conference in Venice last week revealed the views of 100 leading fund selectors from around the world on issues such as market risks, sustainability and interest rates.
Trade wars trump other risks
One of the key themes of the event was the huge impact that economic and disruptive forces are set to have on investors in the coming years. Both investment returns and economic growth are predicted to be lower, while political uncertainty remains high and technological advances are set to change the face of many industries.
We asked the gathered audience of global fund selectors in Venice on 20-21 September which issues currently concern them most from an investment viewpoint.
Right now the most pressing concern for 35% of those delegates polled is the impact of the ongoing trade wars between the US and China. This is followed by the end of quantitative easing (24%), political risk (20%) and the prospect of a sustained low growth environment.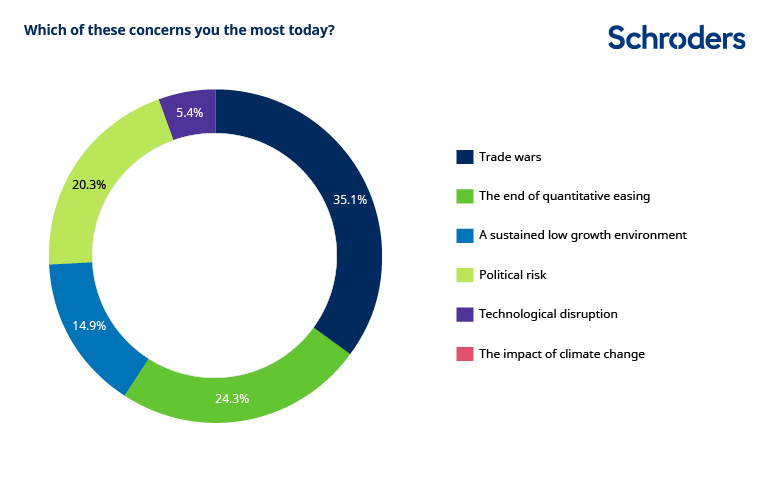 Where next for central banks?
Moving to monetary policy, the audience was asked about what lies ahead for interest rates in the US. 55% of the audience predicted four more rate rises from the Federal Reserve (Fed). This is in line with Schroders' team of economists who expect two more US rate hikes this year and two next year. (The poll was taken prior to the rate hike this week, when the Fed raised interest rates by 25 basis points.)
28% of delegates predicted there would only be two more, however, while 17.5% of those polled thought there would be six or more yet to come.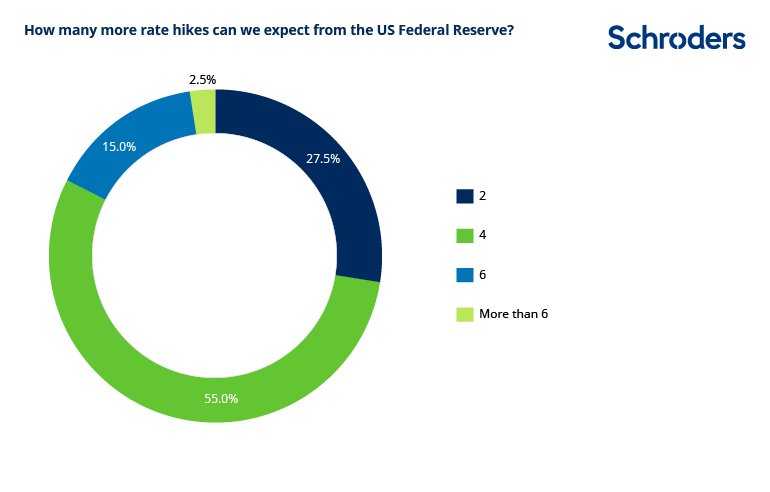 Looking at Europe, the delegates were asked to predict the identity of the next president of the European Central Bank after incumbent Mario Draghi retires at the end of October 2019.
From the shortlist, the most popular selection (33%) was the current head of the Bundesbank, Jens Weidmann. Second in the polling (and the tip of Schroders' Chief Economist Keith Wade) was Erkki Liikanen, the former head of the Finnish central bank. Francois Villeroy de Galhau (Head of Banque de France) and Christine Lagarde (Head of the IMF) received 19% and 16% of the votes respectively.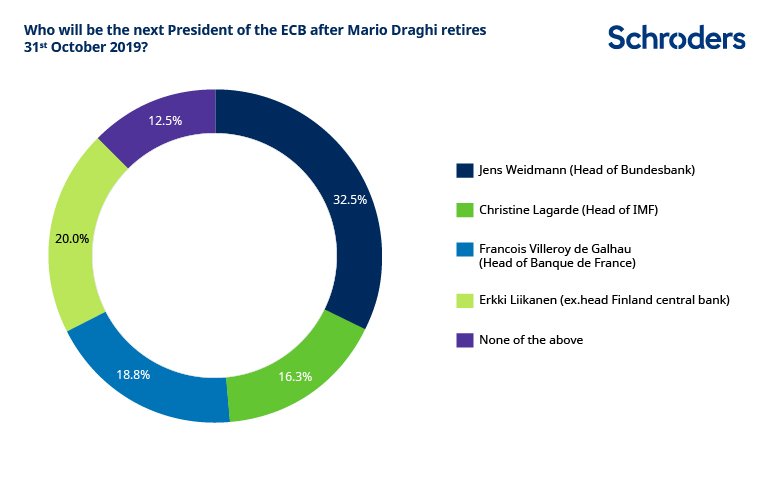 Sussing out sustainability
Sustainable investing is an ever-more prominent theme among investors. Rather than a niche pursuit, it is becoming the new normal.
Indeed, polling showed that 49% of investors in Venice already invest sustainably, with a further 26% considering doing so. However, a third of those polled do not currently invest sustainably and are not considering it yet.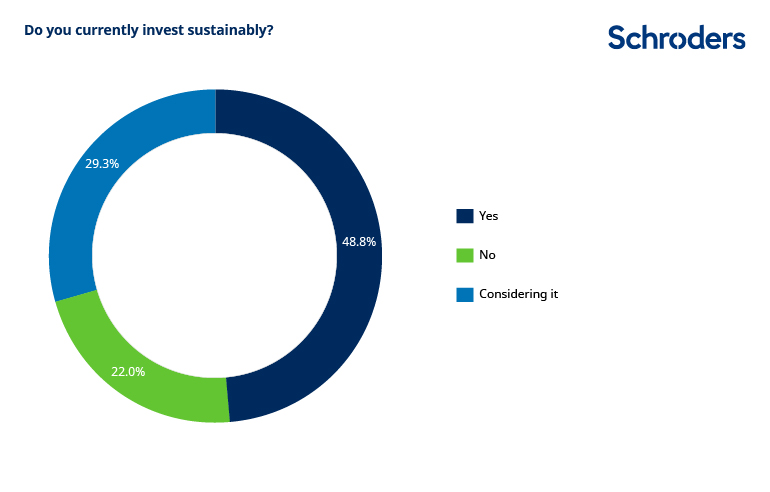 Having a positive impact is not enough; as ever, performance is key for professional investors tasked with getting the best possible returns for their clients.
Indeed, the main reason (cited by 32% of the audience) stopping them from upping their investments in sustainable products is the concern that they may not deliver as good a return as non-sustainable products.
Greater clarity from fund managers on their approach is needed, as 32% of delegates said they are not investing more because of the lack of information on how sustainable fund managers are engaging with the companies they invest in.
Meanwhile, 23% said they were not investing more in sustainable products because of the limited number available.
Digging a little deeper into company engagement, we asked the audience which areas they think are most important. Climate change came out on top (33%), followed by "pollution from operations" (21%), treatment of workers (18%) and ending bribery & corruption (18%).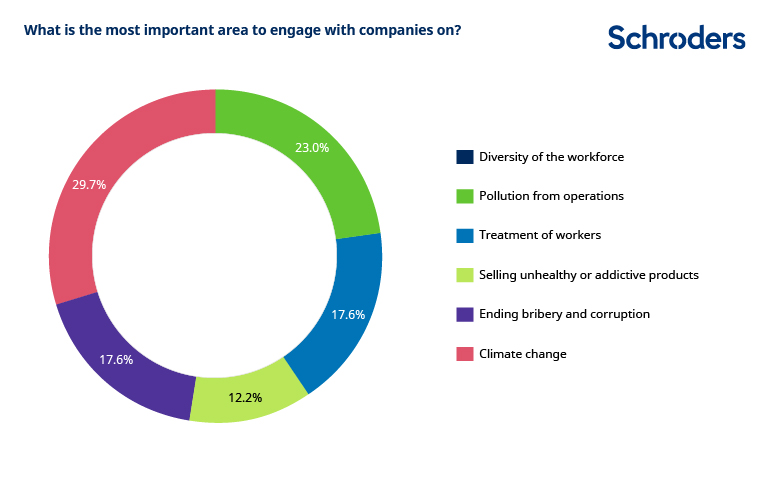 You can find out more about Sustainability at Schroders here.
Leaning towards liquid
It's not just sustainable investing that is moving up investors' agendas. Liquid alternatives are also an increasingly important part of professional investors' portfolios. These products are often hedge fund-type strategies which perform differently to traditional investments and aim to provide investors with diversification and downside protection.
Currently, allocations to such strategies among the investors polled in Venice are low. For 71% of attendees, they make up less than 10% of their total portfolios.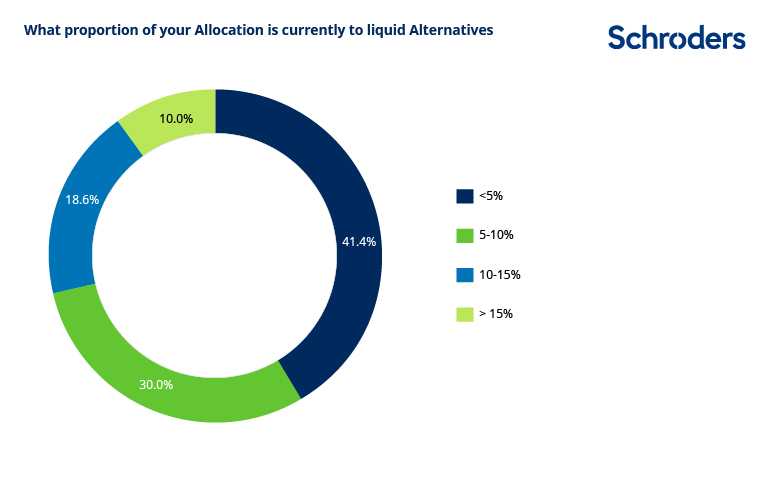 However, this is set to change as 57% expect their allocation to increase in the next 12 months.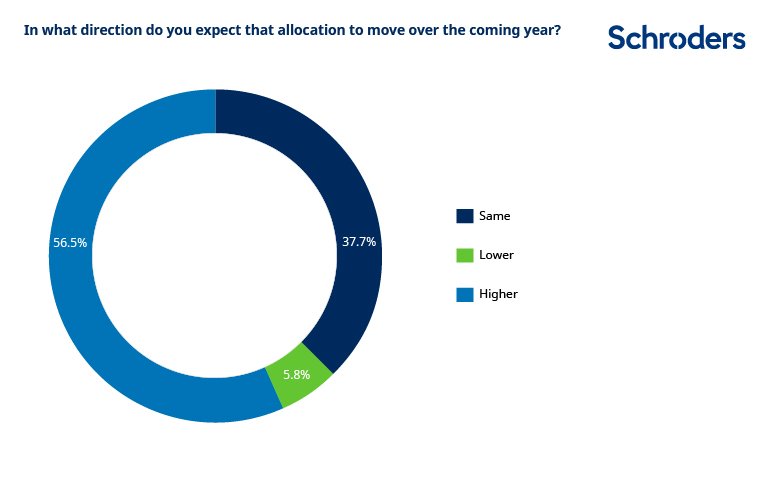 ---
This article has first been published on schroders.com.