Returns from European equities have lagged the US so far in 2018. But we see signs this could change as we head towards year-end, claims Rory Bateman, Head of UK & European Equities at Schroders.
European equity market returns have been disappointing so far this year and below our expectations. As we enter the fourth quarter, in euro terms the MSCI Europe index is around flat year-to-date on a total return basis (including dividends) versus the US which is up just over 10% in dollars.
Our forecast at the beginning of the year was for the European market to appreciate broadly in-line with earnings growth and, so far, this hasn't happened.
Trade war fears have weighed on European shares
Part of the reason is that earnings growth has actually been downgraded through the course of the year, from around 10% to the current 5-6%.
Downward revisions to earnings is a familiar theme but this downgrade doesn't fully explain the modest de-rating we've seen in the market which, in our view, is more to do with political factors including the Trump trade war as well as politics in Italy and the emerging markets.
Our view from here is that while fears of a global trade war have modestly impacted global growth expectations, the US is in good shape and the eurozone consumer continues to push European economic growth. 10-year Treasuries are above 3%, indicating decent activity along with rising inflation expectations. In Europe, the services element of the purchasing managers' index (PMI) surveys continues to be robust.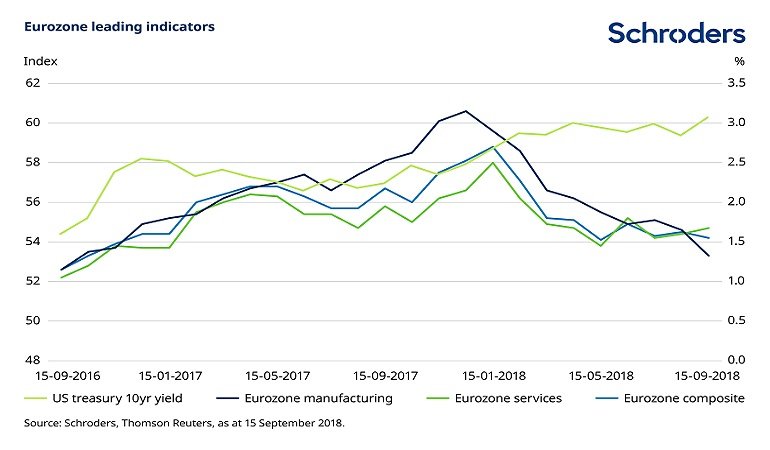 It is fair to say that manufacturing PMIs are a little weaker, driven by emerging market demand as international trade digests and absorbs the tariff changes. Our feeling is that sentiment around Trump's policies is reasonably well priced in, and the momentum within the European economy should be sufficient to drive earnings and market appreciation through the end of the year.
Improved performance from cyclical and value stocks
We have seen some evidence of this in the last few weeks as cyclicals and value stocks within Europe have begun to perform better. This has closed some of the performance gap between the US and Europe and we expect this to continue.
Our view on a probable continued European equity market recovery is based on the extreme divergence between US and European earnings per share (EPS) growth, driven by the estimated $1 trillion corporate share buyback programme across the pond. These EPS differentials have been driven predominantly by Trump tax cuts and the buybacks which are ultimately responsible for the significant escalation in US corporate debt.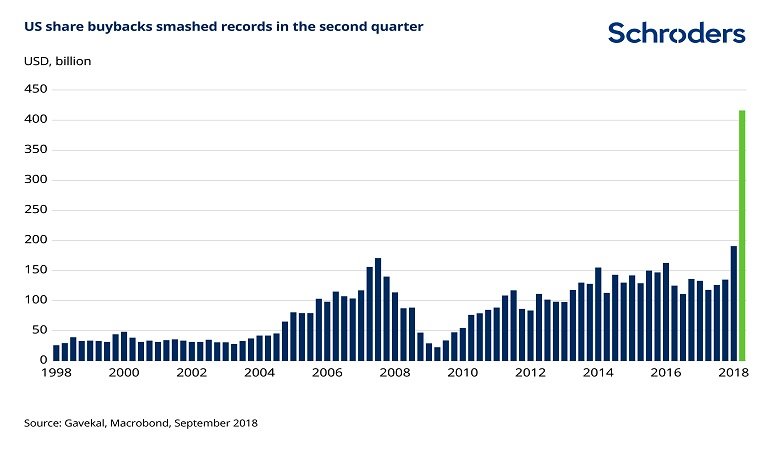 In addition, and perhaps not surprisingly, we have seen dollar strength, some of which has been funded by significant European selling. Estimates of mutual fund redemptions so far this year have totalled EUR 22 billion (source: Morningstar) given superior US earnings growth, concerns around international trade and the usual European political skittishness.
The main uncertainty between now and year-end is of course Brexit "deal" or "no deal". The outcome is very difficult to call, but at the margin we expect a deal of some sort and a positive UK market reaction. Sentiment for European markets will be impacted by the decision either way but will be relatively short-lived given the economic impact for the overall European economy is minimal.
In summary, we are encouraged by the recent rotation in the market favouring more cyclical value stocks and moving away from expensive defensives.
The overall market valuation remains attractive with the cyclically-adjusted price-to-earnings ratio (CAPE) trading 20% below historical averages. The massive performance differential versus the US has recently begun to close and we expect this to continue.
Markets remain susceptible to volatile periods and we would suggest investors be opportunistic and take advantage of this volatility to buy assets that become mispriced.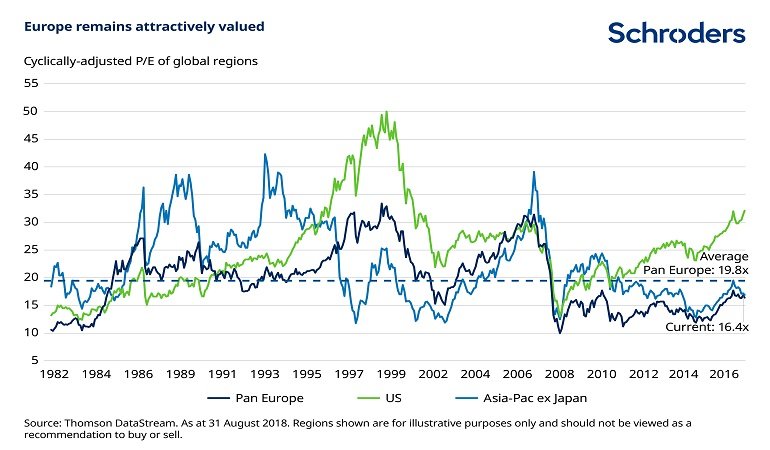 ---
This article has first been published on schroders.com.